As coronavirus cases rise in parts of Africa, we look to the east of the continent where our recent initiatives are helping to keep people safe and healthy.
Recent reports show that Africa is seeing an alarming rise in COVID-19 cases. With just over 35,000 people infected and nearly 600 dead, Kenya accounts for around 3% of all cases on the continent*. By contrast Uganda has just over 3,600 cases and 41 deaths*, although infections there are on the rise. But the impact of COVID-19 goes beyond health. Livelihoods and food security are also threatened.
Light for the World has been busy in both countries, helping some of the most vulnerable communities – people with disabilities – to weather the COVID-19 outbreak. Here are five actions we've taken that are already making a concrete impact. As models of good practice, we hope they will prove effective tools in the fight against the virus elsewhere on the continent.
1. We distributed food and other aid to thousands of people, some in the remotest regions.
When we spoke to people with disabilities in Uganda and Kenya about their concerns during the coronavirus outbreak, they were clear that food was what they needed most. We supported 3,500 people with disabilities in 7 districts in Uganda, focusing on the most vulnerable groups including those in remote areas. In Kenya, we distributed food and relief material to 850 households.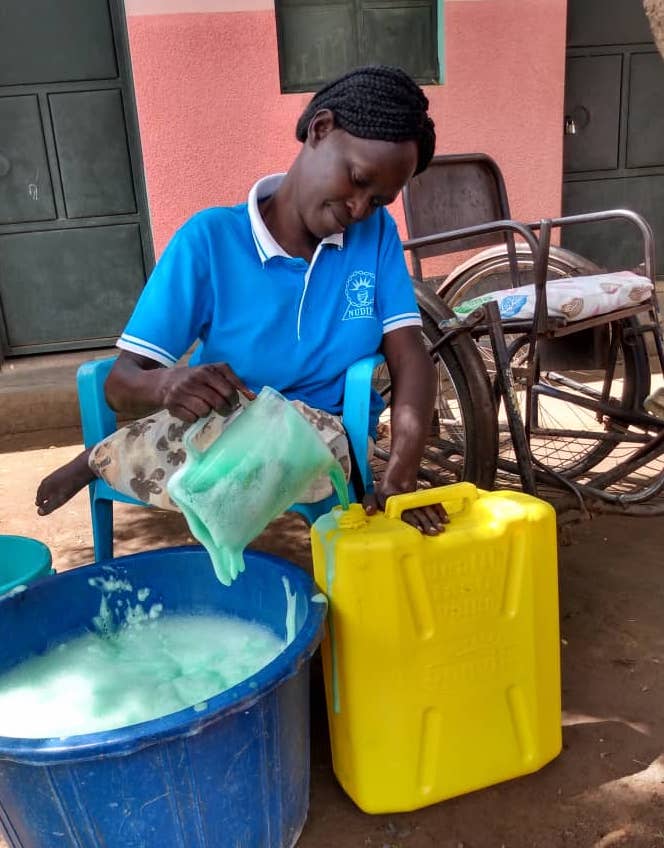 2. We provided training to more than 300 people in Kenya and Uganda.
We trained 96 women with disabilities and mothers of children with disabilities in Uganda to make liquid soap. We also gave them a start-up kit so that they could use their training to make enough money to feed their families. Similarly, through our Inclusive Business initiative in Laikipia, a conservation-rich zone in Kenya, we supported around 230 people with disabilities, 90% of whom were women involved in small-scale businesses such as farming, retail and soap making, among others. Examples of the kind of support we gave them include deploying specialists to offer business advice and linking businesses up with suppliers and other partners.
3. We're helping entrepreneurs with disabilities protect their livelihoods during the pandemic.
In Uganda, we identified 50 entrepreneurs with disabilities who had to close their businesses due to the COVID-19 lockdown. We're providing them with bridge funding, ideas on creating alternative businesses that are less likely to be affected by the pandemic, and coaching and support from our networks on the ground.