Neglected Tropical Eye Diseases
Neglected tropical diseases (NTDs) affect more than one billion people globally. Predominantly found in lower-income regions and conflict areas, people affected by them are often trapped by a cycle of poverty and disease.
Neglected tropical diseases are endemic in almost 150 countries. However, the majority of the NTD burden is concentrated in low- and middle-income countries in Africa, Asia, and Latin America.
More than 1 billion people – one-sixth of the world's population – are infected with one or more NTDs, and an additional two billion are at risk. Each year, about 185,000 people die as a result of NTDs.
Infection with an NTD may result in severe disability, disfigurement, blindness, and malnutrition. Also, individuals are often infected with multiple NTDs simultaneously. Globally more than 47.9 million disabilities are caused due to NTDs.
The average trachoma infection rate in Ethiopia is around 26.9%.
The end of NTDs is expected to result in an estimated net benefit to affected individuals of about US$ 25 for every US$ 1 invested in preventive therapy.
Together with our partners, we fight three of these NTDs: trachoma, river blindness and lymphatic filariasis. Focusing especially on preventive treatment, we limit their spread through:
raising awareness and providing clean water and sanitation facilities
providing medicines
case detection, case management and improved vector control
Effects of tropical diseases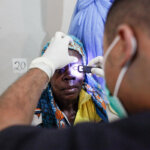 Trachoma
Trachoma is the world's leading infectious cause of blindness. It is a bacterial infection of the eye affecting an estimated 1.9 million people worldwide. Trachoma occurs primarily among children and is transmitted through human contact and flies. It is especially prevalent in poorer communities. If detected early, medication and surgery can help, but if untreated, the disease leads to blindness via trichiasis.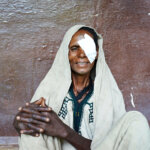 Onchocerciasis (River Blindness)
Onchocerciasis, or River Blindness, is caused by infection with a parasitic worm transmitted by the blackfly species. It mainly affects communities living near rivers where blackfly species live and breed. River blindness is the second most common infectious cause of blindness.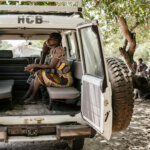 Lymphatic Filariasis (Elephantiasis)
Lymphatic filariasis is caused by infection with parasitic worms transmitted by mosquitoes. The parasites settle in the lymphatic system, disrupting the drainage of lymphatic fluid and causing permanent inflammation and bloating of the limbs.