Light for the world has been operating in South Sudan since 2007. We cover three mandate areas: inclusive education, economic empowerment and humanitarian action. We implement programmes through our partners as well as directly. A key feature of our work in South Sudan is ensuring inclusion in the context of humanitarian crises.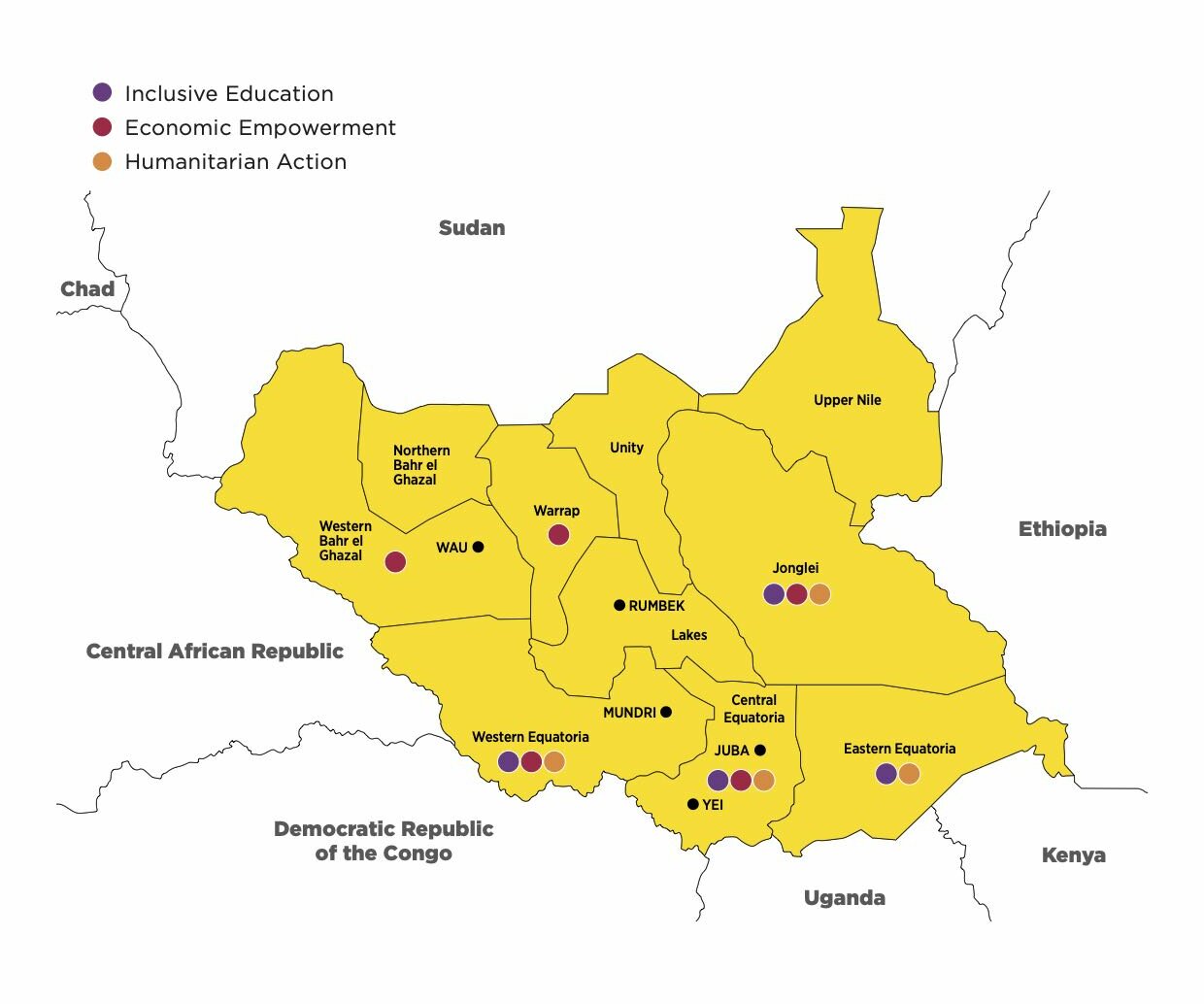 Our impact in 2021
More than 5,000 people reached in total
Over 300 children reached through inclusive education programmes
Almost 100 people with disabilities reached through economic empowerment initiatives
What we do
We champion inclusive education
We work with the Ministry of Education and Instruction and the University of Juba to implement South Sudan's Inclusive Education policy. We provide technical advice to mainstream education-focused Non-Governmental Organizations (NGOs) as well as government and build capacity among humanitarian agencies to make sure children with disabilities can access education even in emergency situations. We are funded by UNESCO to support the roll-out of inclusive comprehensive sexual education for teachers and learners who are blind and deaf, particularly for girls. We support early childhood education by training Disability Inclusion in Community Development (DICD) facilitators and linking them to humanitarian agencies. We pay specific attention to girls with disabilities and children with nodding syndrome through our community-based approach.
We promote inclusive economic empowerment
As respected experts in this area, we advocate for policy reform and provide technical advice to government and NGOs to ensure sustainable livelihoods for people with disabilities. We are part of the UNESCO technical-vocational education and training (TVET) working group and have built up considerable experience in upskilling young people. This is a key intervention, both in terms of addressing unemployment and upskilling young people. We empower parents of children with disabilities by sharing skills that they can use to generate an income. We continue to build a pool of disability inclusion experts to train and coach government bodies and companies to be more inclusive of people with disabilities.
We advocate for an inclusive humanitarian crisis response
We work with government and humanitarian agencies to make sure they swiftly provide the assistance and protection that people with disabilities need in times of crisis. We promote peacebuilding through our unique inclusive sports program which we have piloted in Mahad camp for internally displaced people over the last few years. With support from the Union of European Football Associations (UEFA), we will extend this program to other sites. Additionally, we have also been instrumental in setting up the Nodding Syndrome Alliance, bringing much-needed visibility to children living with this debilitating and often fatal neurological disease.
Get in touch for more information