Did you miss the Conference of State Parties to the UN Convention on the Rights of Persons with Disabilities? Sound complicated? It doesn't have to be – here's our five main take-aways from the global platform for disability rights.

1. It's time for Deaf representation.
With 70 million deaf people worldwide, their presence on the UN Committee on the Rights of Persons with Disabilities should be a given – yet there are currently no Deaf members. This gap in representation is a concerning oversight, calling into question the very aim of the Committee – full inclusion.
Light for the World held a COSP side event together with the World Federation of the Deaf, the Permanent Missions of Austria and Ghana, International Disability Alliance and the Sightsavers Equal World campaign, drawing much-needed attention to this issue. We asked the panellists and Light for the World's own experts for advice of how equal representation of Deaf people can be achieved.
"Inclusion also means full represention. Let's walk the talk of inclusion and make Deaf representation a reality. Not only in the CRPD Committee, but everywhere."


Session moderator Ambrose Murangira, Light for the World Uganda
"We called on governments for better representation of women with disabilities in the Committee and we succeeded. The same must happen for Deaf people. When we are well connected, we are more likely to be elected."

Gertrude Oforiwa Fefoame, CRPD Committee Member and Advocacy Adviser at Sightsavers shared her experiences from the EqualUN campaign
"'Nothing about us without us' is a foundational concept of the global disability movement. Let's work together to make sure the CRPD Committee reflects this principle by electing signing deaf people!"

Joseph Murray, President of the World Federation of the Deaf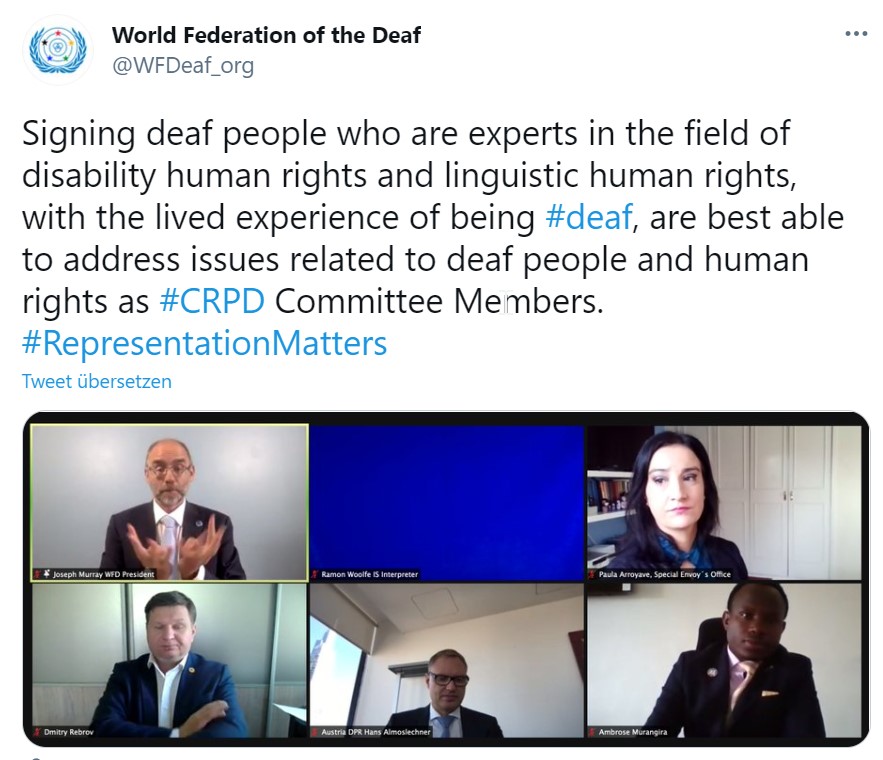 2. Poetry & Sign Language
Who says that art and policy work don't mix? Her Abilities awardee Bernice Oyeleke made a lasting impression at our side event with her poem "Exclusion of the Excluded". She performed the piece in Nigerian Sign Language together with two members of her Deaf Literacy Club. Demonstrating the power of poetry and language, she painted her vision of an inclusive society:
With eyes that hear and hands that speak,
We have been excluded for a long while,
A hope for change, we fan alive.
And with all hands on deck,
We stand united for inclusion together,
Till the exclusion is completely gone into extinction.
3. COVID-19 turned the world upside down…
…but it taught us a lot and helped us prepare for the future as well.
Inclusive Futures, the UK aid-funded programme in which Light for the World participates, has reviewed and evaluated the lessons learnt on disability inclusion during the pandemic. The side event "COVID-19 Response & Recovery", organised by Sightsavers, gave a 360° view of what the COVID-19 pandemic means for people with disabilities.
The panellists spoke of systemic discrimination which became more pronounced in the crisis and of additional barriers for people with disabilities in their access to fundamental rights.
"We urge Governments to always consult Organisations of People with Disabilities. The pandemic is far from over, but we already see how much has to change for a good future for all: in education and healthcare, the labour market, the economic recovery, social protection and the tax system."

Deborah Oyuu Iyute, National Union of Disabled Persons of Uganda, NUDIPU, and Trustee of Light for the World
"Covid-19 has led to higher marginalisation. People with disabilities have lost business opportunities and had to spend more to access services and products.

Light for the World Kenya Director Steve Njenga whose InBusiness programme created vital support to small business owners and entrepreneurs with disabilities
"InBusiness has addressed this by supporting people with disabilities in the creation of competitive businesses. We also advocate for equal access to public procurement and supply opportunities."
4. Education is at the heart of all human rights dialogues.
The right to inclusive education for all learners with disabilities was a common thread of the whole conference. Rightfully so, as even pre-pandemic, a multitude of barriers left more than 32 million children with disabilities out of primary school. During the pandemic, gaps in technology and accessibility meant that, in some places, students lost a whole year of schooling.
In the official COSP Round Table on education, our Director for Inclusive Education, Nafisa Baboo pointed out that learning gaps have widened because of COVID19, and that hard-won gains in education and early childhood development are at risk.
"We can build back better inclusively, moving from rhetoric to real action by providing the necessary resources, human & financial, for inclusive education. Disability must be hardwired into every education and early childhood development programme,"

Nafisa said, ending with a question:
"When are donors going to make disability inclusion a core criterion for accessing funding?"
The next chance for governments and funding partners to step up for inclusive education for everyone will be at the Global Education Summit in July.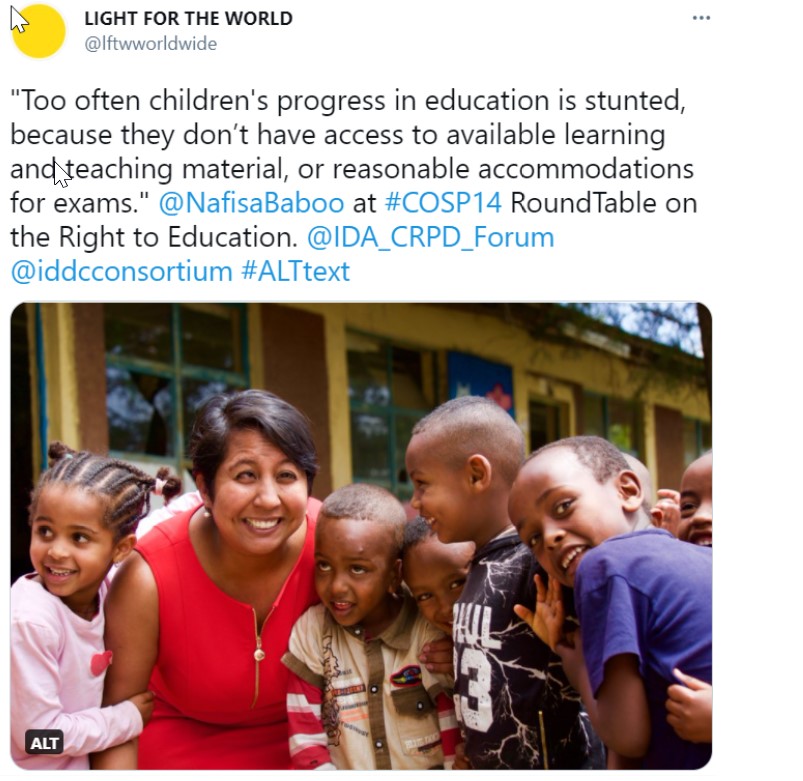 5. Leave no one behind – nothing about us without us
The COSP brings two powerful slogans together and tells us that one cannot stand without the other. The claim of the 2030 Agenda for Sustainable Development of "leave no one behind" is joined by the disability rights movement's most powerful motto "nothing about us without us".
It became very clear that these slogans must be applied not only at the COSP but everywhere. Disability inclusion must be on the agenda of all events which shape our world: the High-Level Political Forum on the Sustainable Development Goals and the Global Education Summit in July, the next UN Climate Change Conference in November, and the Global Disability Summit next year.
Accessibility has become even more of an issue now with the majority of events taking place online. While this potentially means more participants, it also raises concerns about the digital divide which threatens to further exclude people with disabilities from low-income regions.
About the COSP