On World Women's Day 2018, Light for the World is delighted to announce the launch of Her Abilities, the first global award honoring women with disabilities who achieved greatness in their life or field of work.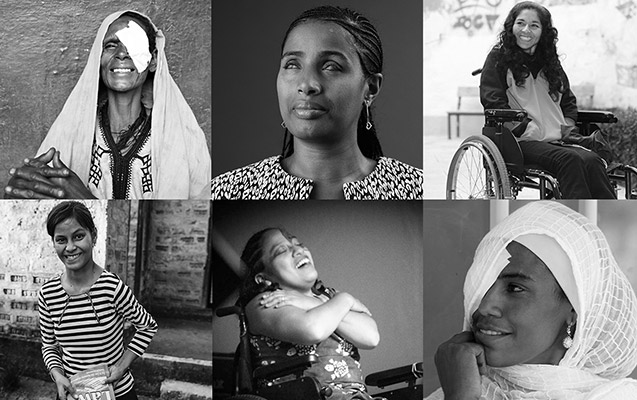 Inspired by being awarded The Spirit of Helen Keller Award today and The Right Livelihood Award in 2017, Yetnebersh Nigussie announces a new recognition this International Women's Day. Yetnebersh was inspired by winning both awards and wants to give back to the disability community by celebrating other women with disabilities who have achieved amazing things.
Yetnebersh said about Her Abilities:
"After winning the Right Livelihood Award last year, and The Spirit of Helen Keller Award this year, I was proud and overwhelmed by the recognition I received. Now we are launching Her Abilities to give something back to a community who are so often sidelined or made invisible by society – women with disabilities.

There are so many inspiring and strong women with disabilities out there who achieve greatness every day. Her Abilities will shine a spotlight on their extraordinary achievements and, in turn – I hope, inspire a brand new generation of women with disabilities.

Disabled women are often forgotten, even in diversity discussions. That's why our award is aimed at women with disabilities only. We want to put them in the spotlight. We want to give them a platform. We want them to feel recognized and celebrated. We want them to feel and most importantly be included!"
Her Abilities Award Categories
Her Abilities will award the achievements of women with disabilities globally from the following three categories.
Rights
Women with disabilities from the advocacy and rights sector, who advocate for the rights of people with disabilities and inclusion. They could be working at NGOs or charities; at government organizations or in government; or simply in their local communities to achieve vital change.
Health & Education
Women with disabilities from the health or education sector, e.g. teachers, teaching assistants, school directors, university professors, doctors, surgeons, nurses
Arts & Sports
Women with disabilities from the arts and sports sector, e.g. artists, actors, writers, poets, Paralympians, runners, swimmers, etc.